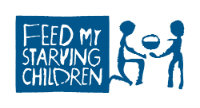 Feed My Starving Children is a non-profit Christian organization committed to feeding God's children hungry in body and spirit. The approach is simple: children and adults hand-pack meals specifically formulated for malnourished children, and we ship these meals to our distribution partners. FMSC meals have reached nearly 70 countries around the world in our history.

A little history about how the Borden Real Estate Team became involved with Feed My Starving Children...
We have known about FMSC for several years, however it wasn't until February of 2014, when our church (EBC) hosted a mobile pack event, that we saw how big (and great!) of an organization that FMSC was! Parker was 5 years old -- the minimum age required to pack -- so we signed up to participate in this event. We had a BLAST!
Fast forward 8 months and it was New Year's Eve (which happens to be Parker's birthday!). A commercial came on TV; You know the ones...they talk about donating to the kids who need money for basic necessaties to survive? We explained to Parker that when we were packing meals several months earlier, that it was helping kids in similar situations as the ones we were watching on TV. Parker started sobbing. He asked if we could pack meals again and of course we jumped on what God was doing in his heart and said yes. 2 days later we were packing meals in honor of Parker's 6th birthday and loving every minute of it!
We decided that this organization was making a HUGE impact in the lives of kids all across the world and we wanted to be a part of it. Not just our family, but our business as well. At this point, we decided to hosting start bi-annual pack nights. In March of 2015, we held our first pack night and it was a hit! We had a huge outpouring of support from our friends, family and community to join us at our pack night, working together to be the hands and feet of Jesus!
Over the summer of 2015, Parker overheard us talking about attempting a garage sale to get rid of some things around the house. He eagerly approached us and asked if he could have a lemonade stand at the garage sale. We immediately agreed, as we are always looking for opportunities to teach our children about business leadership, being business owners ourselves.
It was what Parker said next that we knew something needed to be done. He said, "I want to give all the money we raise selling lemonade to Feed My Starving Children, because those kids have no food and we can help save them". We loved the idea! We knew that God was giving us an opportunity to provide a platform for others to give back and we needed to do anything we can to provide it! -- so we made it BIG!
Parker gave the lemonade away for free and all of the proceeds that he raised was donated to Feed My Starving Children. The Borden Real Estate Team and TCI Realty of Minnesota, Inc. matched all donations that were received. We advertised the fundraiser on social media and had visitors come from up to an hour away, just because they heard about Parker's generous heart. The second day of the fundraiser, we received a phone call very early in the morning - it was WCCO. They heard about the fundraiser and were so impressed by Parker's actions that they wanted to come to our home and interview Parker and help bring awareness to the Feed My Starving Children organization!
Parker set a goal of raising $160 for Feed My Starving Children, which feeds 2 children for an entire year. Parker blew that goal out of the water on the first day of the fundraiser! To date, Parker has raised a total of $1,335.00 for FMSC, which will feed about 17 kids for an ENTIRE YEAR! We are so proud of his giving spirit and pray that he will continue to be an example for other adults and children in our community!
Below is the interview with that Parker had with WCCO!
If you are interested in making a donation to Feed My Starving Children, you may do so through Parker's Lemonade Stand fundraising page:
http://www.fundraising.fmsc.org/faf/donorReg/donorPledge.asp?ievent=1112103&supid=425707602
For More Information on the Feed My Starving Children organization, how you can donate or how you can become involved, please visit: